When we talk about increasing HGH production with foods you have to know the process of HGH release.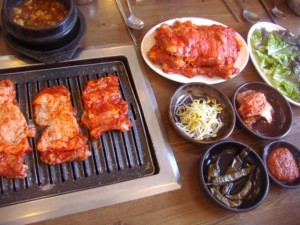 Insulin lowers the hgh levels not directly but through somatostatin. When you eat food full of simple carbs this way you will boost the insulin level and growth hormone levels will be decreased.
The important thing here is that you have to avoid the foods that are full of simple carbohydrates!
The food is not only important for your natural HGH production but for your health
 Eat Low Glycemic Meals
You have to minimize or eliminate pasta, white bread, white rice and all the similar foods etc.
It is not a good idea to eat simple sugar of any type for example: brown sugar, corn syrup, white sugar, honey, maple syrup etc.
Eat some other high glycemic foods that could give you natural health benefits like: fresh orange juice, dried fruit, low-fat milk, beer etc. – but do not overeat!
Protein, fat, dietary fiber and when you eat slowly – all that will help you to prevent both overeating, and extreme blood sugar spikes.
Decreased fat and sugar in your diet will help the growth hormone to be released by the pituitary gland but when you eat fatty meal this process is greatly reduced just like when you consume glycemic meals.
 Work out and low glycemic meals:
As soon as you finish your work out, avoid eating something sugary or sweet for around two hours – actually, it is even better when you 'don't eat'. When you work out the body boosts the releases growth hormone naturally. By consuming sweet foods, this will trigger a blood insulin increase that will decrease the natural release of HGH in the body.
The meals that could be added are beans, nuts, whole grains and legumes
The connection between L-arginine and hgh
L-arginine is undoubtedly a nonessential amino acid and the body needs it to create urea, which assists get rid of toxic ammonia. L-arginine as well transforms to nitric oxide that relaxes bloodstream, plus it activates your body to produce protein. You have to add plenty of it into your eating habits – eat foods that are full of L-arginine.
 Meat and Dairy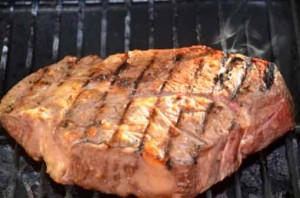 When we talk about foods loaded with protein this usually means that they are also full of L-arginine. Based on the Mayo Clinic statement, good quality animal food sources of L-arginine is meat and of course dairy food.
Beef steak – provides around 1,200 mg of this amino acid per 3.5-oz meal.
A chicken breast –  1,000 mg in the same meal size,
Cheddar cheese provides around 950 mg.
 Seafood
Fish is for sure excellent way to obtain L-arginine. Tuna and anchovies have a lot more than 1,500 milligrams within a 3.5-oz. meal, although sardines possess around 1,500 mg within the same size. Shellfish and shrimp are providing around 1,700 mg per 3.5-oz meal, scallops 1,223 mg.  L-arginine content in the majority of all sea foods is somewhere between 1,000 and 1,200 milligrams for every 3.5-oz meal.
Nuts
In nuts you will find even more L-arginine compared to fish and meat.
 L-arginine in 1 oz serving
Pine nuts – 680 mg.
Black walnuts – 1000mg
Peanuts – 900 mg
Almonds 700 mg
English walnuts have 640 mg
Pistachio nuts have 620 mg
According to – U.S. Department of Agriculture!
 Grains
L-arginine can be found in the majority of whole grain products, for example: oats, barley brown rice, buckwheat, wheat germ, cereals, quinoa, corn, sweet potatoes, teff, etc.
L-Arginine, L-Ornithine and L-Lysine and how important are they
Lots of people are looking for a natural way to boost their Human growth hormone levels through diet plan.
The vital thing here is to understand that these top 3 amino acids could  help you increase your HGH naturally: L-Arginine, L-Ornithine and L-Lysine and if you know in what foods you can find them you will be on your way to achieve the goal!
Foods high in L-Arginine
Tofu, Dried yuba
Soy protein
Meat
Grains – brown rice, oatmeal
Raisins
Seafoods
Fermented foods for example: yoghurt
Gelatin foods
Nuts
As you can see above most of the foods mentioned are full of protein! Sweet foods and carbohydrates are not very friendly when we talk about stimulating natural HGH release!
 

Foods high in L-Ornithine
 

Food sources of L-Lysine
Meat – pork, chicken, red meat, beef,  poultry
Soybeans
Cheese – parmesan
Low fat milk
Eggs
Sardines and Cod
Kidney Bean
Nuts
Quinoa
Fenugreek seed
Spirulina
While the foods in the above list could aid with boosting your Human growth hormone levels, you will have to eat a massive amount of these foods every day to generate noticeable difference.
There's food which boosts your L-ornithine and L-arginine levels really significantly: Watermelon. The raise of both of these amino acids should help to maximize your Growth hormone levels.
USDA experts claim that consuming watermelon raises blood amino acid L-arginine concentration in the body.
Arginine is crucial to the functionality of creatine, nitric oxide and proline that are needed for numerous biological functions.
Nitric oxide – improves immune performance and will help to relax vascular vessels.
Proline – vital for wound healing
Creatine – important for muscular functions, energy levels and neurologic.